Loft Style: From Abandoned Factories to Modern Urban Apartments
What is loft? Where is this term derived from? Today we are going to talk about this topic.
We all come across the term loft, which means upper story or attic in a building, directly under the roof. Currently, it is one of the most preferred styles of interior design for contemporary designers. If You wish to have a unique interior design, You are on the way.
Firstly, let's understand where the concept "loft" was derived from and became a unique style for contemporary designers. The idea of Loft comes from the USA. Originating from the West, it is occupying other parts of the world. All began in the 40s of the 20th century in New York. The expansion of production stimulates the factories and fabrics to be moved to suburban areas. At that time, young painters and other bohemians couldn't afford to rent a house in the city center. They started to rent the free spaces of the factories with very little money. From this very time, loft-style grasped the attention of contemporary designers. The letter gave aesthetic solutions, combined with other styles, added light and shadow. Eastern rubs baroque style furniture, road signs as accessories and made an extraordinary style.
Loft style makes design elements even technical equipment such as pipes, ducts, ventilation systems, power sockets, mechanical devices, car devices, and other industrial tools. These inanimate and often useless items were brought to fruition to tell their own story. Even one can paint those elements with bright colors to be more visible. Besides, Loft style allows the combination of the things of different centuries, cultures, and styles. The loft is considered to be "an open space" of the 21st century. If one wants to describe loft-style, typical expressions will be open space and infinity of mind. That's why it's less likely that we can find 2 similar loft houses. In Loft style, the best combination is the application of brick and concrete. Brick was always used in factory construction. Further on, it became more popular in interior design.
The loft-style floor is preferred to be wooden or stone. Wall decoration is also highly important. It should be common but unique, less decorated but attractive. Certainly, the company Deco Line had to offer its loft design solutions to its sophisticated and expressive customers. So our designers offer exclusive loft design ideas as below.
Idea 1: Isn't it original to have Your fingerprint on the large living room wall? As furnishing and decorating are rather individual in loft design, what can be more peculiar than your fingerprint? Imagine how shocking it will be for Your guests to face this kind of original wall sculpture.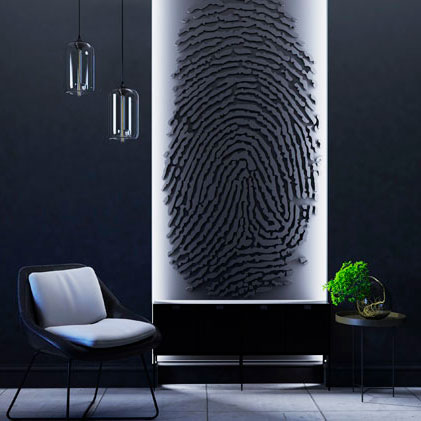 Idea 2: Bas-relief walls are one more daring loft design idea for decorating a large wall in the living room in Loft style. Bas-reliefs can be painted with various, bright and risky colors. Here the wall sculpture looks like a storm that blows through leaves. Depending on the lighting system, painted colors every day, You can get different images.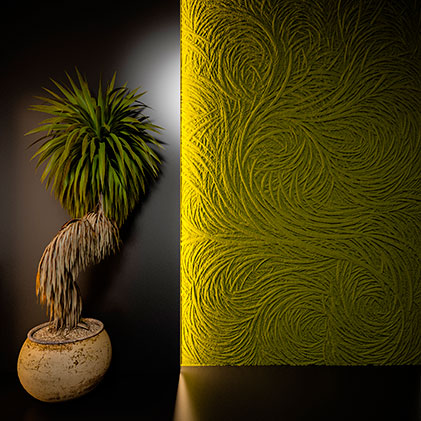 Idea 3: If You have chosen a house designed in loft style and are curious about impressive, abrupt, then You are on the right way. Hovering over, You will come across an innovative and fresh combination of those features. By the way, if You select some warm color for the wall sculpture(bas-relief) and set a cozy fireplace next to it, the spectacle will fulfill, and You will become a fan of that place.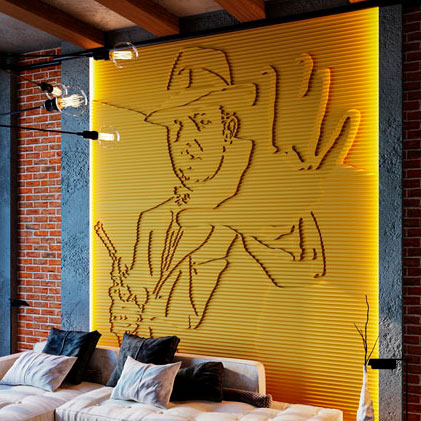 Idea 4: Well, let's imagine a loft-style bathroom. Of course, we don't have a variety of choices of bath accessories, but, instead, we have options for wall decorations. Here we provide You with hexagon 3D slabs to have different compositions suited in loft style interior design. The model beautifully fits concrete walls and ceilings. And we can take advantage of color diversity. Below presented a way of composition.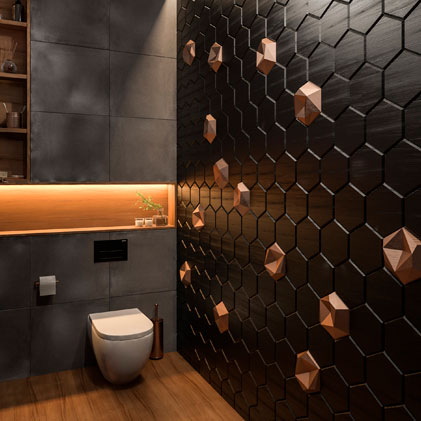 Idea 5: We bet You didn't know classical style can work in a loft apartment. Well, it can. Here is what happens when loft design meets classical style. Interior looks settled but luxurious and projects elegance in its simplicity which is the essence of the loft-style.