Deco Line, Music, and Interior: Make it Superior
For now, switch on your favorite music and enjoy our blog. Because everything in the world can be accompanied by music and, in this case, Deco Line is not an exception.
So, what music will you choose, jazz or rock? I'd choose jazz.
We all know that everything around us is based on choices. And regardless of your occupation, you may get lost in the ocean of options.
For creating a superior interior, designers should know the principles of interior design. A latent way to get the drift of the principles is to connect the elements of music to interior design elements. There exists a direct correlation between music and interior design. Music and design reflect emotions, impressions, and moods as they both are based on rhythm, proportion, and harmony.
But what exactly are rhythm, proportion, and harmony in interior design?
Proportionality gives the two concepts the breath of beauty. That is why the British writer Ken Follet wrote in his book called "The Pillars of the Earth" that "Proportion is the heart of beauty." It is the shape, the color, the texture.
Music represents the audible rhythms, the interior, in its terms, represents visual rhythms. Rhythm is all about repetition, all about constant movement. In music, it is like your beat. In design, rhythm is the repetition of design elements. It helps to create motion within a space. It emphasizes the components of design by repeating them in an organized manner. The idea is to choose a design element and make it move. Deco Line's 3D wall panels are the brightest examples of repetition in the interior. A big part of models is based on repetition and gives your walls rhythm. That is a way to achieve harmony.
The harmony in the interior is all about feeling, all about listening to music that makes you feel good. Generally, harmony in music refers to many pitches played at the same time. For example, in a rock band, the guitarist handles harmony. In design, harmony is unifying many objects in one package. No matter how different these objects are, they must breathe as one soul. Interior space will feel calmer with harmony, more relaxed, and very well put together.
Idea 1: Our designers preferred 3D panels of Deco Line. They brought their inner feelings and emotions into a concrete and realistic form. This model is a culmination for those who want to create a magnificent environment. It turns any place into an elevated corner. Our designers used this model for a bedroom. Looks luxurious, right?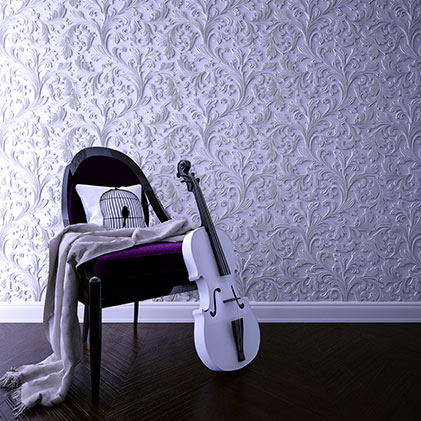 Idea 2: Isn't it blissful to come into a hygge corner like this after a hard-working, tiring day? This time our designers decided to install Deco Line's 3D hexagon panels with a protective layer. Printography. The black and white contrast is always in the style and adds the finishing touch to this cozy nook. Looks aspirational with an extra rock guitar. Fits any corner!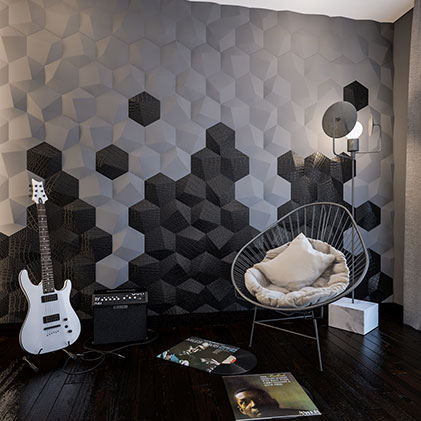 Idea 3: For designing an interior for music lovers, Deco Line company offers bas-relief walls. These are bespoke creations, reflecting the great love of melomaniacs' towards music. This distinctive model feels like new music that meets the purpose of design. The idea is the best solution to make the music in people's heads soundable in the air. It is splendid for restaurants, karaoke clubs, cafes, music halls, or houses if you are keen on music.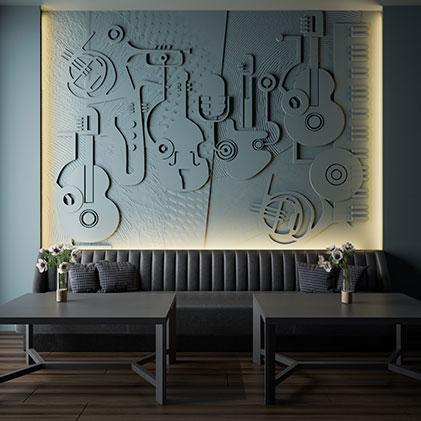 Idea 4: This time our brilliant minds came up with the idea of creating an electric room. This model is marrying a musical orchestra and a whimsical scene of emotional faces on the wall. The lights stress all the details and layers of emotions. Turn on the lights, and you will hear the music. Looks spectacular for loft-style rooms, pubs, clubs, and similar places.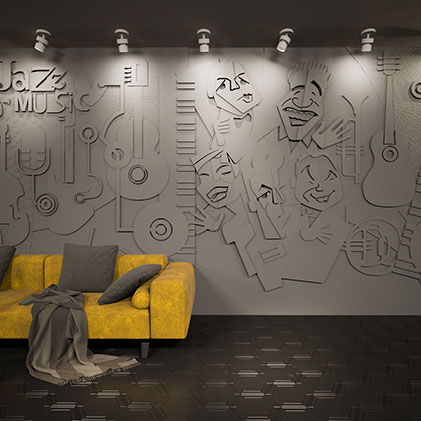 Idea 5: A tailored 3D wall panel by Deco Line is a quick-fix option for those who prefer honest spaces. The repeating lines of the model create constant movement within a place. So, your eyes will move to follow a pattern movement as your ears listen to the rhythms of the music. This unique model fits any interior։ offices, public entertainment venues, and residential. That is perfect for having a rest and thinking. Here you can set free your ideas, define your life goals and compose whatever you think.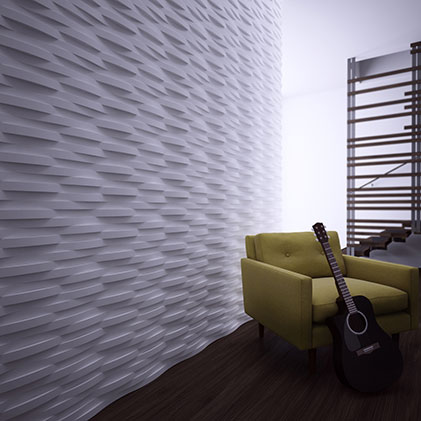 It is fascinating how music and interior design can blend so well. What's music for the ears is also bliss for the eyes.
Deco Line's 3D panels design the interior through the sensation, feeling, and impression of the music.
So, what is your impression?
What kind of interior will You choose?